Updated Jul 24, 2022 ...
Let The Best Biking Roads Motorcycle Maps App Lead You To Great Riding
There are many ways to plan a motorcycle route, the most romantic being to not plan at all. With or without an itinerary, it's best to keep a few physical maps on hand. This insures that no matter what road you take or how lost you become, you can find your way back at the turn of a page.
Long distance motorcycle trips require more time and preparation. No matter the destination, everything starts with an expressway route which is then followed up by a two-lane alternate. Said highway is then dulled by greener pastures along local roads which, as lovely as they can be, pale in comparison to the rural county twisties.
By now you're probably wondering if there's a fast way to find such roads. The answer's yes! Best Biking Roads, a combined web resource, is the brain child of "one man show" David Robertson.
By "combined web resource", what I mean to suggest is that the app-is-the-site-is-the-app. Don't let the download user reviews fool you. This is a good thing and here's why ...
Once the app is installed and you've logged in, there really aren't many options to tangle with. Instead, we're presented with two priority outlets: "Browse routes" and "Create a route". To be honest, I've yet to dive into the route creation feature (I have a laptop for that) but while traveling in unfamiliar territory, browsing has proven useful.
I load the Best Biking Roads app, tap to browse routes and select "near me". After a few seconds, I'm presented with an extensive list of what looks to be some pretty incredible riding. Each prospect is rated on a five star tier. Of course I'm picking the closest route with a high rating! Waukegan to Spring Grove to Harvard to Janesville to Monroe to New Glarus (known for beer).
Honestly, this looks to be a rock 'n' roll cruiser run as opposed to a culmination of sport touring enthusiast dream twisties. So, we try again and boom! Option two pans out.
That's how it's going to be with a lot of would-be (but not as good) motorcycle map resources. There are simply too many riding styles to differentiate, so one rider's "five star" route may be another's yawn fest. Our site, The Riding Obsession, is designed for responsibly aggressive, spirited riders who are track day familiar and safety minded all in one package.
We want sweepers, twisties and hairpins that are completely void of painted lines and guard rails.
After mentally filtering through the results, the Best Biking Roads smartphone app provides me with nearby routes that are begging to be conquered. I can conjoin them with several others, leap frogging my way from one to the next for hours on end. So long as I'm directionally aware with a default expressway route in tow, my end destination remains on the docket.
How To Use Best Biking Roads Maps With Voice Guided GPS
Come on, now. You know that was your next question. Let's do this.
We've downloaded and installed the app before learning to peruse their enormous (crowdsourced) library. We've isolated a choice map that we'd like to ride all or some of. It's time to get rolling!
On the "view route" screen, there are plenty of details that help you to confirm interest. Concealed below the "Show on map" button is a link reading "View this route on the website". Click that.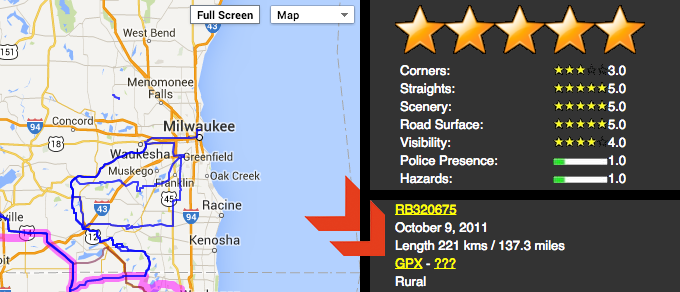 This opens (albeit sloppily) a desktop version of their domain. It's not easy to see, so zoom in. Look for the five star ranking information to the right. Below it and the username of whoever uploaded the map's listing is a line that reads "GPX - ???". Tap the GPX link.
Depending on what mobile browser you're using (I use Dolphin for Android), you may or may not be able to choose a download location. Remember where that file is! It's easier to install OsmAnd (Android) or GPX Navigator (iPhone) before saving the GPX file to their respective directory.
Ready? Excellent. Now let's discuss using a GPX file with visual and voice guided GPS.
What's Your Favorite Motorcycle Mapping App?
There are a good many motorcycle apps on the market. What are some of your favorites? How have they helped you in the past? Your input is invited. Leave a comment!
Share Link ...