Behold our FTC disclosure masterpiece here. Updated Jan 12, 2023, this article contains one or more maps ...
Chicago To Des Moines: Maps, Gnats, Taps
Let's talk about route guidance for a moment. With the development of those apps which attempt to avoid traffic, most route planning software today (be it web based or stand alone) makes use of an "avoid expressways" option. That option leaves a lot to be desired. Sure, it removes a rider from the four-lane chaos of a gusty expressway but it replaces that havoc with the dullest of alternates.
"Brother's Restaurant is a perfect first stop. We then pick up I-80, continuing through the Quad Cities. You can't miss the "World's Largest Truck Stop."
As an Android user and an "all in one" PDA minimalist, my search for a stable app that not only allows users to pre-draw their route but also provides voice navigation to guide them through it has finally paid off. We as sport touring riders don't care what the fastest alternate route is. We want to take specific roads for the sheer pleasure of embracing a journey rather than the destination.
These are great times to be alive. Free services such as Road Trippers allow us to build a scratch, default travel itinerary before deviating from it. While both Travis and I are familiar with the plan, I must take this moment to compliment his focus and dedication to it.
We're both learning regularly just how incredible a road ride can be if you spend ten to fifteen minutes observing alternate options. For every expressway that our GPS provides because "we all want to get wherever we're going as quickly as possible without any regard for the joy of travel", there's a two-lane option running parallel to it. If there is no expressway and only the two-lane prospect, you can be confident that it's going to be beautiful, curves or not.
Oddly enough, this is completely off topic for day one. Our goal today is to eject ourselves from the city with as much gusto as possible. There are no scenic switch backs on the docket, nor are there any river valleys or open range transitions. Today is about getting far enough from the city to openly state that the trip is a go and we're fully committed.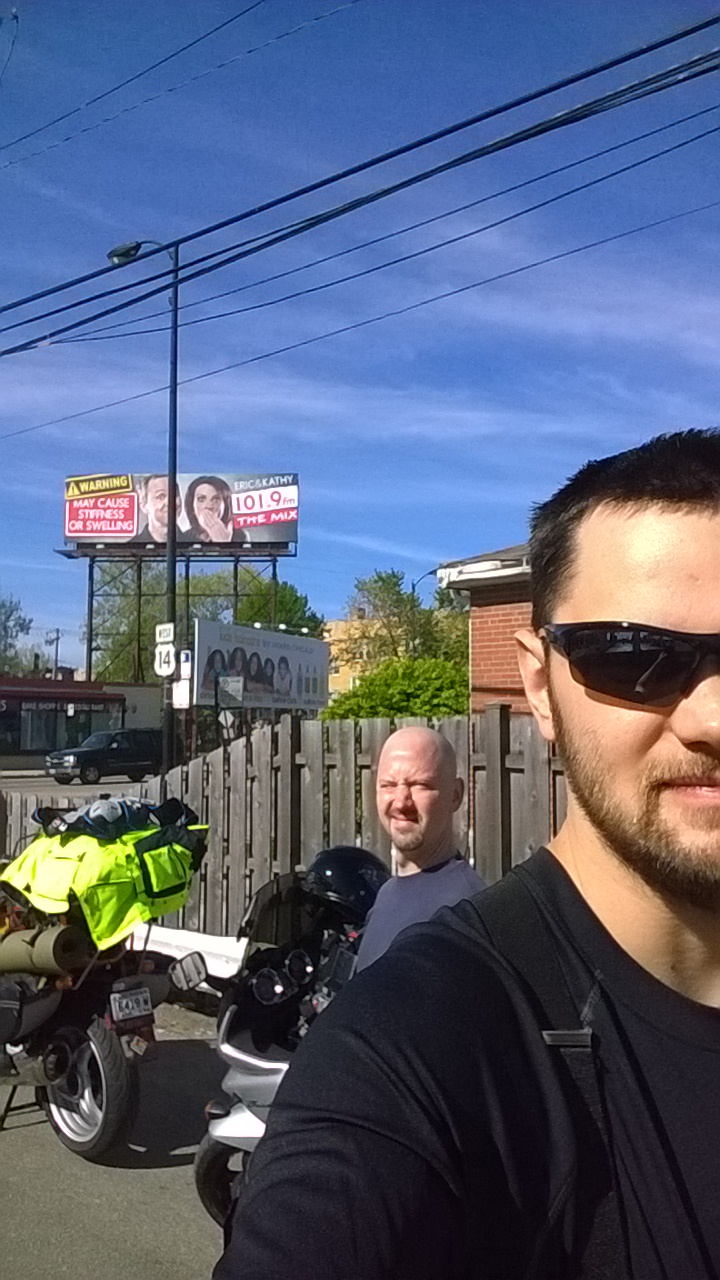 So, we rally at the Shell station on the corner of Peterson and Western Avenues, where zero of the numerous invitations I posted to Facebook, Meetup and VinMoto are waiting. Laughing and figuring this would be the case, we gas up and hit the slab, following I-88 toward the Illinois border. For the next two weeks, we'll have each other's back.
As a first stop, Brothers Restaurant is perfection. A big, protein breakfast saddles us up for the rest of the day. Police officers approach us in the parking lot before we enter. Politely curious about our motorcycle touring plans, they seem genuinely impressed with a dash of envy, changing their conversation's subject matter to vacation time.
From here we pick up I-80, continuing on through the Quad Cities into Iowa. Once across the border, we stop at a local welcome center to grab a state map. Not all state maps are created equal. Some provide far more detail than others. Either way, they're invaluable as PDA data coverage can quickly disappear when traveling along rural roads.
Strangely, crossing the border also introduces gnat swarms. Gnats are terrible flyers, so they're nowhere to be found while you ride but that's not the weird part. While stopped and with my visor down, no gnats. Crack my visor even an inch? They arrive in droves.
Lucky for me, they're delicious!
On we continue. I've got my audio interface crankin' out tunes and am clearly recognizing that my bike feels and sounds great. It's as if she's smiling. Then we see it. We don't need any gas at this point but let's be honest, who isn't going to visit the "World's Largest Truck Stop"?
I spend a total of $1.50 to top up on fuel. Hours out of town, we're finally ready to abandon the slab for whatever worthwhile backroads will get us to Des Moines. The terrain being pretty flat, twisty sections are few and far between but at least the scenery is nice with minimal wind.
At one desolate stop, some form of tourist van that's completely covered in Harley Davidson logos pulls in to get gas. Wether any of these people actually own a motorcycle is questionable. We predict it to be a wedding party ... a bizarre one at that.
The ladies are in matching dresses, bridesmaids I assume (or is this a line dance squad?). The men are in vests with boutonnieres made from shotgun shells. Decidedly ignoring the presentation, I enter the convenience isles. When I return, one of their party walks out behind me, looks at my motorcycle, then at Travis before grumbling "Suzuki? Shoulda' bought a Harley."
It's good that I don't hear him. I react poorly to such negativity. This guy represents all of the most ignorant rider mindsets.
Not a minute after, one solo and three group Harley riders roll up. They're polite, inquisitive and interesting individuals, making respectful small talk. For every slack jawed, non-riding loud mouth who belches out the star spangled stench of Harley Davidson falsities, there are three legitimate Harley romantics who more than make up for it. To them, I tip my visor.
A couple hours flow by and we're about forty-five minutes from Des Moines. Our first night is to be spent at the Thomas Mitchell Campground. Unfortunately, they're undergoing pre-season landscape renovations and what limited spots they have are taken with the exception of one.
The hostess doesn't seem to understand why we want to camp. Others in the park are looking at us strangely. It's as if we've interrupted some cult ritual mid-sacrifice. The local ranger, obviously familiar with this outsider clash, expresses that our only camping option is next to a bunch of loud-mouthed eighteen year olds. We opt to continue on and book a motel room.
The Motel 6 in Des Moines is, for the money, well maintained and very friendly. Once unpacked, we ride down to The Waverly, a newly refurbished pub complete with an outdoor patio. Get the Reuben! The new owner is an avid rider as well, making respectable mention of his Yamaha FZR. Convincing him to attend a track day is no simple task, however.
Ready for more? Day Two: Des Moines to Kearney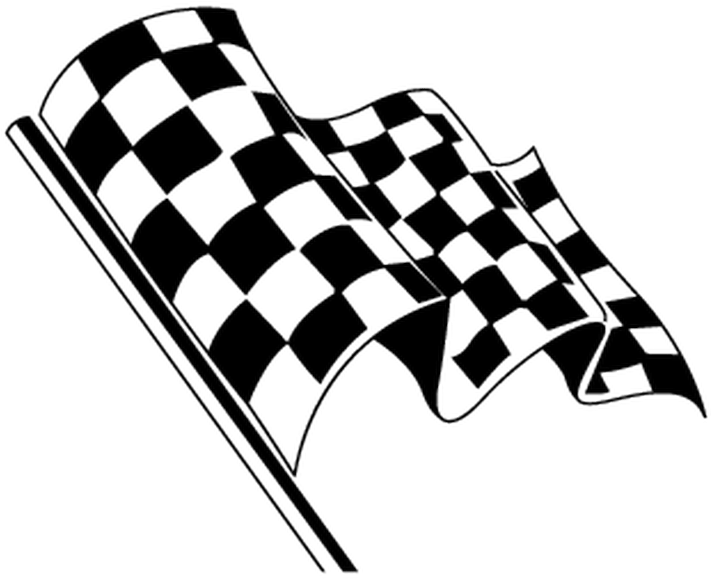 What's Your Favorite Sport Touring Motorcycle Route From Chicago To Des Moines?
Twisty, scenic travel options connecting the two are few and far between. What roads do you recommend? Are there interesting stops along the way? Your input is invited. Leave a comment!
Share Link ...